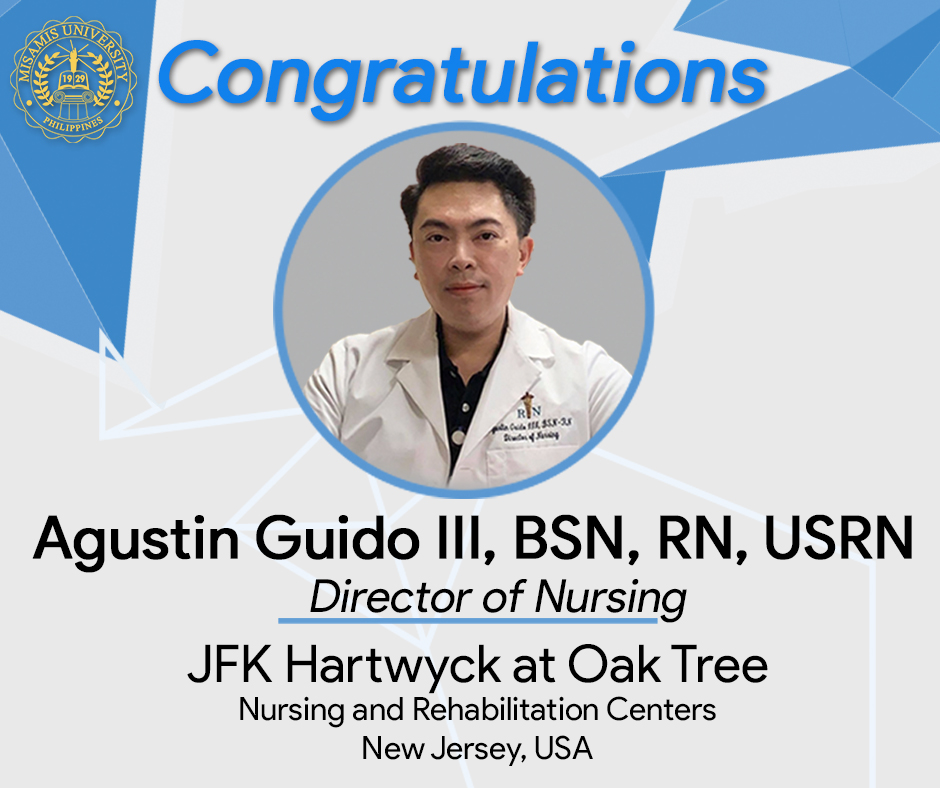 Alumnus from Batch 1995 Becomes Director of Nursing at New Jersey, USA
Misamis University alumnus Agustin Guido III has newly been appointed as the Director of Nursing at the Hartwyck at Oak Tree Nursing and Rehabilitation Centers in New Jersey, USA. He was recently cited by the NJSNA Nurses Weekly website (https://njsna.org/in-the-spotlight-agustin- guido-iii/) for his excellent management of the COVID-19 pandemic.
During the height of the pandemic, the Hartwyck at Oak Tree had a 100% recovery rate and no deaths for both patients and staff who were infected with COVID. Everyone agreed that this was due to Guido's outstanding leadership and management skills and the good teamwork of the employees in the facility. The hospital operations continued to run smoothly despite having a very vulnerable population, as it houses ventilator, brain trauma (ERU), sub-acute, LTC, and residential patients, the hospital was able to continue admitting patients.
Guido graduated with a Bachelor of Science in Nursing degree from Misamis University in 1995. He took the Nursing Licensure Examination later that year and got the 12 th place.
Announcement
Photo Gallery
Videos
---