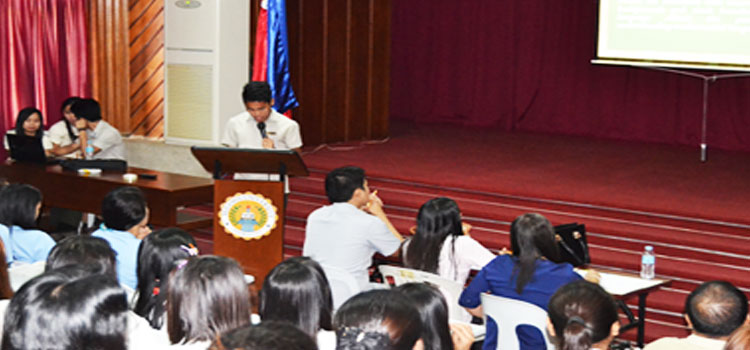 CAS Research Festival Promotes an Active Research Culture for Misamis University
Misamis University is committed to promulgate a strong and sustained research culture. Hence, the College of Arts and Sciences (CAS), in celebration of the CAS Week, organized Research Festival on January 29, 2015. The CAS students presented 20 individual and group studies validated by the MU Research Center.
While the MU faculty and staff have increasingly published studies in the university journal, the students are also encouraged to conduct research as part of their academic requirements. Through the Research Festival, it is aimed that student researches be part of MU's Journal of Multidisciplinary Studies. According to Ms. Rosellynn Enguito, the Research Associate Director, 'there is no stopping to the creation of a fertile environment for innovations.'
In Misamis Univeristy, research is one of the 3 major components of the university's educational services. While it serves as a foundation for community service, it also strengthens the practice and output of instruction. Dean Anthony L. Awa of the College of Arts and Sciences said the Research Festival of the college is taking the university's research culture into greater heights as it leads the students to explore and discover breakthroughs in the multidisciplinary fields of social sciences, liberal arts and natural sciences.
The Research Festival was spearheaded by the Dean of the College of Arts and Sciences, supported by the CAS faculty and staff and the MU Research Center.
Kudos to the College of Arts and Sciences!
Announcement
Photo Gallery
Videos
---