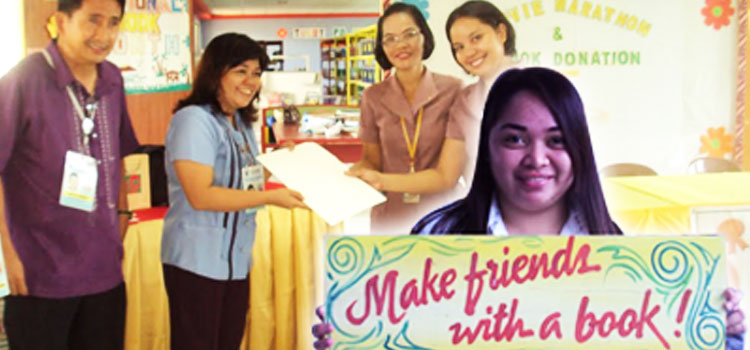 Celebrating National Book Month with Adopted School

In the celebration of the National Book Month, the Misamis University Library conducted series of activities with the MU adopted school as the chosen beneficiary.
The MU library has selected the Ozamiz City School of Arts and Trade (OCSAT), one of the university's adopted schools, as the recipient of the book donation and the audience of the movie marathon.
Held on November 28, 2013 at OCSAT campus, Maningcol, Ozamiz City, the librarians and staff of the MU library donated 92 titles and 252 volumes of books to the library of OCSAT. During the giving ceremony, the MU Library staff also entertained the OCSAT students with a marathon of movies. OCSAT students were made to be fully satisfied of the celebration because of the feeding activity that followed.
For their part, the Ozamiz City School of Arts and Trade (OCSAT) has awarded Misamis University Library and the MU Library and Information Science Society a certificate citing its appreciation for the books donated. The School Principal of OCSAT, Mr. Pat S. Rara was very happy that Misamis University is now its partner in many areas where OCSAT needs to grow and further enhance believing that MU has all the expertise to assist OCSAT in attaining its goals.
Ozamiz City School of Arts and Trade (OCSAT) is one of the adopted schools of MU through the MU Adopt-A-School (MU-ADS) Program. The objectives of MU ADS include: Opens access to quality education services from a higher educational institution; Enhances the learning and teaching environment of the adopted school; Improves the adopted school's quality of academic life.
Being a community-involved and socially-responsive academic institution, Misamis University is indeed true to its commitment in expanding the reach of quality education not only to its direct constituents but also to the many other communities that deserve the MU help.
Kudos to Misamis University!

---
Top News