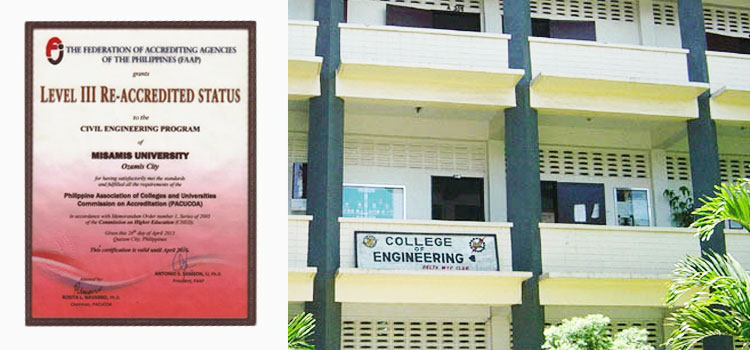 Level III PACUCOA Accreditation Status for Civil Engineering

It is indeed a very promising way to start the school year 2013-2014 for Misamis University and the entire comMUnity!
Misamis University was granted LEVEL III Re-Accredited Status by the Philippine Association of Colleges and Universities Commission on Accreditation (PACUCOA) for the Civil Engineering Program on April 2013.
The granting of the LEVEL III Re-Accredited Status clearly confirms that the educational services of Misamis University have satisfactorily met the standards and fulfilled the requirements set for higher education institutions.
The Civil Engineering program is now one of the five (5) academic programs of Misamis University that are in the Level III Status. The other academic programs include: Liberal Arts, Business Administration, Bachelor of Elementary Education and Bachelor of Secondary Education.
Kudos to the College of Engineering!

---
Top News