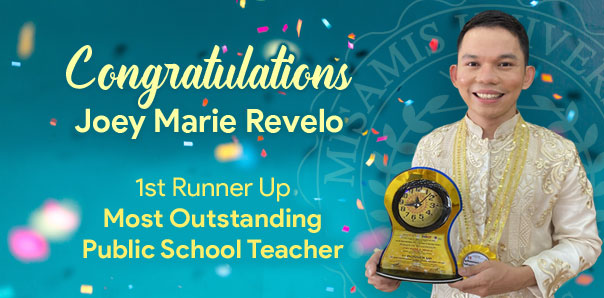 MU Alumnus Joey Marie Revelo Bags 1st Runner up for 'Most Outstanding Public School Teacher'
Misamis University Alumnus Joey Marie Revelo receives the 1st Runner Up for the Most Outstanding Public School Teacher Award (MOPSTA) among all educators in Region 10 – Northern Mindanao. Revelo graduated from MU's Bachelor of Secondary Education program in 2010 before becoming a public school teacher at Ozamiz City National High School (OCNHS). In 2017, he graduated from Master of Arts in Education at Misamis University.
To determine recipients of the MOPSTA, public School teachers were screened by the MOPSTA Committee and the DepEd Region X officials through document reviews, an interview, and an actual teaching demonstration. The competition is sponsored by the Rotary Club of West Cagayan de Oro City to recognize and aid the education sector by recognizing and awarding the exemplary performance and accomplishments of classroom teachers in the region.
Apart from this award, Joey Marie Revelo had already been consistent in his passion for delivering quality education to public school students. In 2019 alone, he was awarded the Most Outstanding Secondary School Publication Adviser during the National Schools Press Conference among all the teachers who participated in the nationwide event. Revelo was awarded the Most Outstanding School Paper Adviser (Secondary) of Region 10 during the Regional Schools Press Conference and was also acclaimed the Most Outstanding Secondary Teacher in English during the Pasidungog sa Amihanang Mindanao in December of that year. He is a frequent awardee in various competitions for teachers and a consistent regional and national winning coach in the Radio Broadcasting over the years.
Mr Joey Marie Revelo expressed his gratitude to all his mentors in his elementary and high schools and to Misamis University for molding and nurturing him. He is also thankful to the LGU, DepEd Ozamiz, and Ozamiz City National High School for the support accorded to him in all those co- curricular activities.
Announcement
Photo Gallery
Videos
---