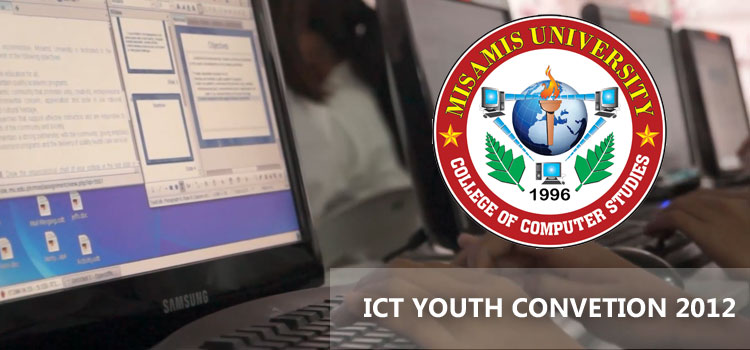 MU BSIT and BSCS Students Proclaimed Champions-3rd ICT Youth Convention
The Bachelor of Science in Computer Science and Information Technology of Misamis University, reaped major awards in the recently concluded 3rd ICT Youth Convention held at La Salle University, Ozamiz City on February 29-March 2, 2012.
Lynnel Emmanuel D. Neri, a second year student of Bachelor of Science in Computer Science [BSCS] and Jurry Angao, a third year student of Bachelor of Science in Information Technology [BSIT], were proclaimed champions in the C/JAVA Programming Competition; First and Second Runner- were awarded to Bukidnon State University [BSU] and Mindanao State University- Iligan Institute of Technology [MSU-IIT], respectively. For the Digital Arts Competition, Juwaidy Ibrahim, a third year BSIT student, was awarded the First Runner-Up; MSU-IIT was proclaimed the champion and 2nd runner-up, respectively.
Mr. Anrom G. Abao, a former President of the Central Student Council and Governor of the College of Computer Studies coached the team. In an interview, he said that, he has no doubt whatsoever that they will win. They were taught by competent and caring faculty, who went beyond classroom teachings, the MU computer laboratories are always upgraded to keep-up with the fast and changing technologies and more importantly, the nurturing learning environment of MU, that, challenges students to be the best…to achieve higher that they could think possible.
On a lighter note, not only did the MU students excelled in academics, they also grabbed the First Runner-Up for Miss ICT 2012 and 2nd Runner-Up for Mr. ICT 2012. Clearly, they got the best of both worlds… the looks and the brains to top it all.
Misamis University making difference through quality education
Announcement
Photo Gallery
Videos
---