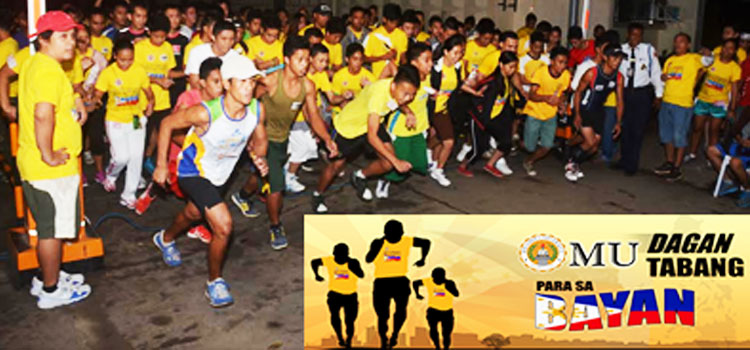 MUdagan MUtabang Para sa Bayan
As the whole world gears up to help and support the Philippines especially in the Visayas region which was devastated by typhoon Yolanda, the Misamis University in Ozamiz City, Misamis Occidental also pumped up the whole comMUnity to share its piece of assistance to the typhoon victims.
As a community-involved academic organization, the Misamis University exhibited a united and willing support through the turnout of thousands of students including the faculty, staff and alumni in the fund-raising 'fun run' tagged as: 'MUdagan MUtabang Para sa Bayan' held on Saturday, November 30, 2013 at MU Ozamiz City and on December 7, 2013 at MU Oroquieta City.
It was indeed a remarkably cool but sunny Saturday morning when hundreds of MU family members trooped around the city in a combination of brisk walking and fun running activities. Attired in MUdagan MUtabang Para sa Bayan golden yellow T-shirt, the runners/walkers truly exhibited a fun and creative way of supporting a humanitarian cause.
In Ozamiz City, before the run, the organizing team leader Alumni Director Sandy Ablaña appealed to the participants to set aside the air of competition, but instead, focus on having fun and feeling good about supporting the noble cause.
For his part, HR Director Eldie Bulajao stated that, as one of the biggest employers in the region, the comMUnity shows strength in its number in achieving unity and togetherness for the cause. Citing the university's social awareness and responsiveness, Director of Student Affairs Joey Cabrera reiterated MU's commitment in supporting the Filipino nation in every way possible and in any place accessible.
In MU Oroquieta City, the organizer Ms. Nanette Cabural for her part feels fulfilled to have led to the streets almost a thousand students, faculty, staff and friends combined who warmly responded to the call.
Indeed, the world must know that a small gesture of help and support goes a long way of making a calamity victim or survivor become a new and better person in the future. Educating for the Future indeed!
Once again, congratulations to the comMUnities of Ozamiz and Oroquieta for the success of MUdagan MUtabang Para sa Bayan!
Announcement
Photo Gallery
Videos
---