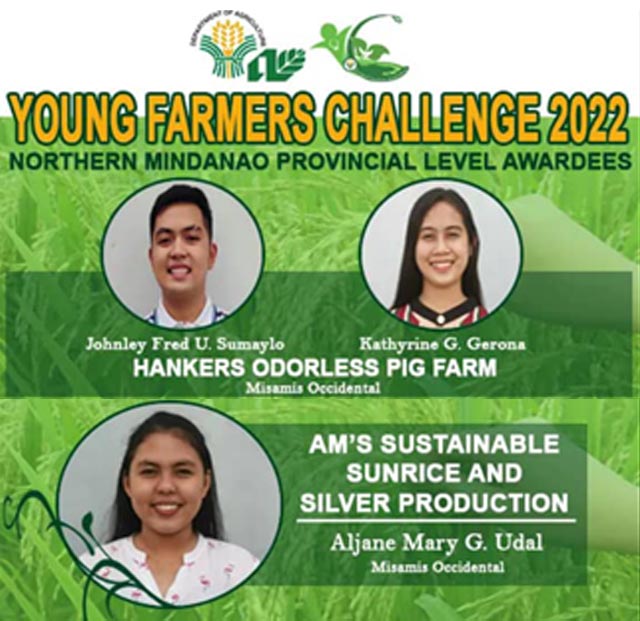 Misamis University BS ABE Students Bag Awards from the Department of Agriculture Region 10

Misamis University BSABE students from the college of Agriculture and Forestry has been chosen and included for the year 2022 Department of Agriculture RFO 10's Young Farmers Challenge Provincial Level Awardees. The following awardees are: Ms. Aljane Mary G. Udal a BSABE-4 student with her proposed project entitled "AM's Sustainable Sunrice and Silver Swine Production"; Mr. Johnley Ferd U. Sumaylo and Ms. Kathyrine G. Gerona BSABE-4 students with their proposed project entitled " Hanker's Odorless Pig Farm ".
The Young Farmers Challenge Fund (YFCF) is a competitive financial grant assistance program for the youth who will engage in new agri-fishery enterprises. The Program is open to all interested youth with proposed agri-fishery enterprises with profitability potential. The grants shall serve as start-up capital for the planned agri-fishery enterprise operated by an individual youth or as a group-managed venture.
This year's theme for the competition is focused on "Start-up Agri-Fishery Enterprises that are Micro to Small Skill Innovative and have the Viability Potential to Generate Incomes that are Comparable to Incomes of Salaried Workers in Urban Areas". The awardees will receive a start-up capital for their proposed agri-fishery business venture amounting to ₱50,000 for individuals and ₱100,000 for group managed enterprises.

---
Top News