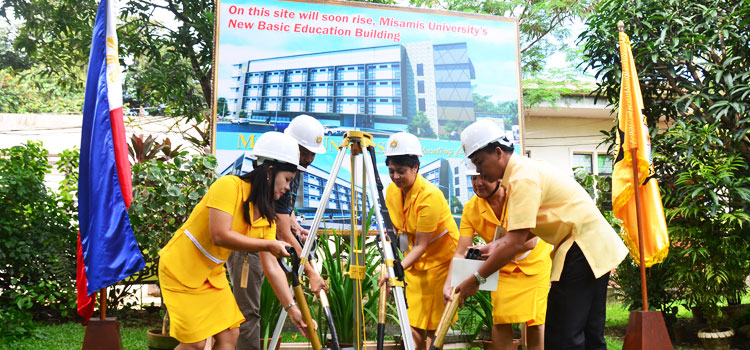 Misamis University is K to 12 Ready
As the whole country is buzzing with readiness for the full implementation of the K to 12 Education Program in the country, Misamis University could never be behind the hustle and bustle of this academic evolution.
As proof of its K to 12 readiness, Misamis University has just had the groundbreaking ceremony for the new Basic Education Building that will house the most modern classrooms for the Pre School, Elementary, Junior and Senior High School.
Ms. Annalyn Clarin, Elementary Department Principal and Mr. Randy Lucot , High School Department Principal are both excited to fill the new Basic Education Building classrooms beginning 2016 and onwards.
Present during the ground-breaking ceremony on September 25, 2014 at 8:00 in the morning were the university's Board of Directors, members of the Feliciano family, college deans, department heads and the members of the Central Student Council.
Being a notable worker, supporter and advocate for the environment, Misamis University designed the new Basic Education Building to be 'green' and 'environmental'. With air-conditioned classrooms, 'LED' lights and other energy-saving utilization and eco-friendly amenities, the new Basic Education building will be the first of its kind in this part of Mindanao.
The construction of this state-of-the-art building signifies the university's commitment to quality education, its proactive response to academic challenges and a benchmark that sets the others to follow and be ready for the K to 12.
Announcement
Photo Gallery
Videos
---