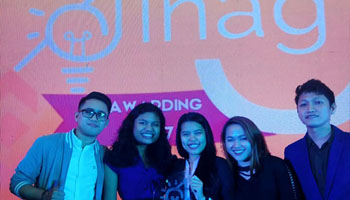 Misamis University wins in the BPI SINAG U Competition
Misamis University congratulates the students who made it in the 2017 BPI SINAG U competition.
Congratulations to Lou Galda, Benny Mysa Shai Casipong and coach, Ms. Dhean Ann C. Arcadio from the College of Business and Management. Team BUILD-DO was chosen as one of the national winners of the 2017 BPI SINAG U competition held on November 19, 2017 at Makati Sports Club, Makati, Metro Manila.
Now on its 3rd year, BPI Sinag U works with partner universities across the country to support and select student entrepreneurs with the best business ideas on social enterprise to participate and submit their business plans and become eligible to join the regional and national boot-camps and mentorship programs. Awardees will have access to participate in international pitch competitions, join in boot camps and receive seed funding to make their social enterprise a reality. BPI Sinag U is open to graduating students from partner universities.
This year, 76 teams from different schools across the country competed but only 60 made it to the regionals and only 20 teams reached the finals. Only five teams were chosen as winners and team BUILD-DO of Misamis University is one of them.
Misamis University also congratulates Joshua Dapitan Zambra, John Reymar Regis (Team LAYA), Jeanette Akiatan and Manie Doyungan (Team FRESHKO) for making it to the Regional competition. Team LAYA was awarded as the Best Presentor during the Regional Competition held in Davao City.
Announcement
Photo Gallery
Videos
---