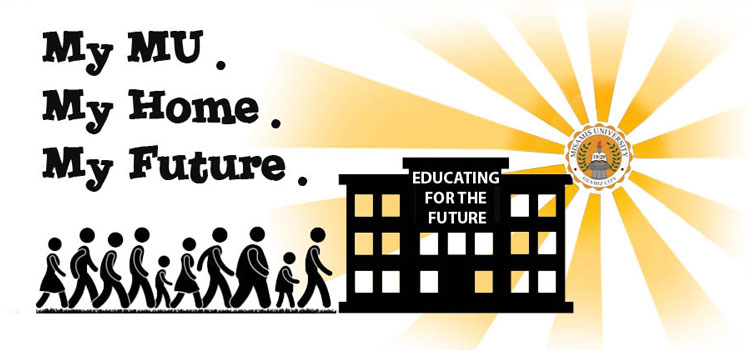 My MU. My HOME. My FUTURE.
Misamis University in Different Lights
My MU. The light I first saw and believed through.
MU is my first choice of a higher learning institution for the following reasons: EXPERIENCE. Misamis University has more than 80 years of academic legacy. Her years of existence have always been dedicated to provide quality education through quality instruction, research and community outreach programs. EVIDENCE. Her commitment to quality education is shown through the state-of-the-art facilities, the construction of infrastructures, upgrading of laboratories and equipment and the formation of qualified and competent faculty that complements an innovative teaching and learning environment. All these evidences are continually evaluated to meet current and future stakeholders' needs and market demands. EVOLUTION. Misamis University is strong and courageous in facing the challenges of the future. Her increasing number of programs that level-up continually to higher accreditation standards implies a continued quest for academic excellence. The proactive response to the global challenges of producing world-class Filipino professional workers is aided by a constant innovation for modernization and standardization that intends to impact a life-changing and world-changing future for the young Filipinos in Mindanao.
My

Home.

This light inspired my journey…
Misamis University aims to always bring about a fully satisfied client. Self-confidence and self-worth that are gained from student-centered classroom engagements yield an emotionally-boosted person. Camaraderie and social bonds that are forged through campus events and extra-curricular activities enhance self-esteem and respect for peers. The university's involvement in the community that widen the students' appreciation for community outreach projects promote the timeless value of selflessness. The values tilled in the grounds of the university form the commonality that identifies everyone to be part of one big MU family. As a non-sectarian institution and amid the shades of differences, MU is also a home to a diverse Mindanaoan culture. Life-changing and career-forming activities drape the whole comMUnity throughout the year.
My

Future

. This light enriches me for life.
'Educating for the Future' is carried out through outcomes-based education system that will produce globally competent industry-required and employers-prescribed job applicants. As one of the oldest learning institutions in Mindanao, MU has also been a home to many successful entrepreneurs and employers spread across the country.
Misamis University has strong industry linkages that provide opportunities for the graduates to land a job after graduation. Based on the regular stakeholders' assembly and evaluation, her graduates are valued by employers to be hard-working, conscientious and helpful.
Misamis University has consistently proven to have fulfilled the promise of quality education as manifested by the 100% passing rate in board examinations, by the prestige of board examination topnotchers and by the more than 90% employability rate of our graduates. These guarantee that the students of Misamis University are heading towards a future of success.
Announcement
Photo Gallery
Videos
---