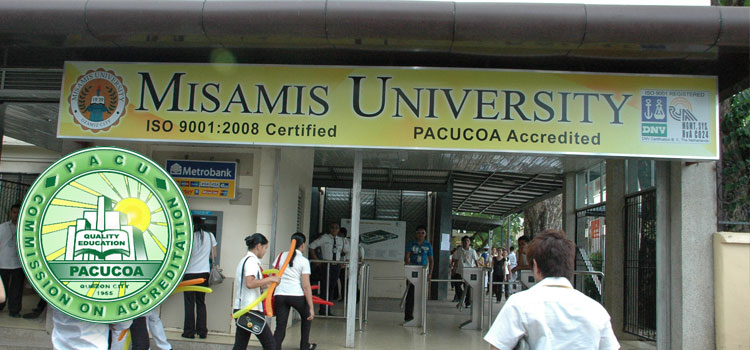 PACUCOA GRANTS LEVEL III REACCREDITED STATUS TO 4 ACADEMIC PROGRAMS
The Philippine Association of Colleges and Universities Commission on Accreditation (PACUCOA) recently granted the Level III Reaccredited Status to four (4) academic programs offered at Misamis University, Ozamiz City. PACUCOA awarded Level III Reaccredited Status to the Bachelor of Elementary Education, Bachelor of Secondary Education, Business Administration and Liberal Arts Program which shall be valid for three years, effective November 2011 to November 2014. A Level III accreditation status granted by PACUCOa" symbolizes a seal of excellence and quality in a given academic program.
The award was a result of the evaluation conducted last October 12,13,14, 2011 by the PACUCOA accrediting team headed by its Chairman, Dr. Conrado E. Iñigo. The survey was based from the following criteria: a reasonably high standard of instruction; a strong faculty and staff development program; a highly visible community outreach program; and an extensive and functional library and other learning resource facilities.
Based on the reports, the Board of Directors, after finding MUAA's compliance with all the requirements and passing the PACUCOA's standards, has approved the endorsement to the Federation of Accrediting Agencies of the Philippines [FAAP] for Level 111 certification.
Attaining this level 111 status, the university, in addition to the benefits granted to schools whose status is level 1 or level 11 as embodied in CHED Order No. 01, series 2005, will enjoy the "authority to offer new courses allied to existing level 111 courses without the need for prior approval, provided that the concerned CHED Regional Office, [CHEDRO] is duly informed" and the "privilege to apply for authority to offer new graduate programs, open/learning distance education, extension classes, and to participate in transnational education.
The endorsement certificates for each program were signed by PACUCOA Executive Director Adlai C. Castigador and Chairman Rosita L. Navarro.
Announcement
Photo Gallery
Videos
---