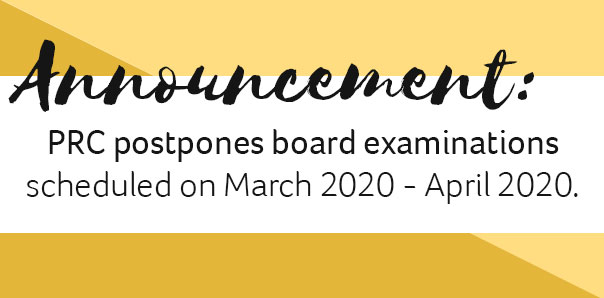 PRC Postpones Board Exams Scheduled on March 2020 and April 2020
In pursuance to the Presidential Proclamation No. 922 declaring a state of public health emergency throughout the country to prohibit mass gatherings, the Professional Regulation Commission (PRC) postpones all board examinations scheduled on March 2020 and April 2020.
Affected exams include the Physician Licensure Examination, Medical Technologists Licensure Examination, Licensure Examination for Professional Teachers, Licensure Examination for Midwives, Licensure Examination for Electronic Engineers and Electronic Technicians, and the Licensure Examination for Registered Electrical Engineers and Registered Master Electricians
The announcement of the new schedules of the examinations will be posted as soon as the PRC issues the official announcement.
Announcement
Photo Gallery
Videos
---