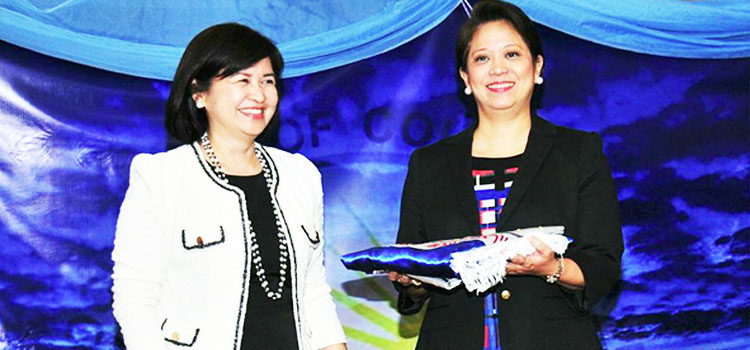 The President Makes Me Feel Good

'It feels soooo good!' is the common reaction of everyone in the comMUnity about the university president being recently elected as the President of the Philippine Association of Colleges and Universities (PACU). Dr. Karen Belina F. De Leon, President of Misamis University was inducted as the 2014-2016 President of PACU at the Shangrila Edsa Hotel on August 12, 2014. The inducting officer was no less than Secretary Patricia Licuanan, Chairman of the Commission on Higher Education (CHED).
John, a Medtech student says, 'I am so proud that my president has been chosen by the leaders of the PACU member- institutions in the country to be their president too!'
Christian, an engineering student exclaims, 'This accomplishment is a great honor to the university that even an ordinary student like me feels great about it!'
As president of PACU, Dr. De Leon is also the concurrent Chairman of the Coordinating Council of Private Educational Associations (COCOPEA) which is a council of organizations of private education institutions which include the following:
• CEAP - Catholic Educational Association of the Philippines
• ACSCU - The Association of Christians Schools, Colleges, and Universities
• PAPSCU - The Philippine Association of Private Schools, Colleges, and Universities
• PACU - The Philippines Association of Colleges and Universities
• Tevsa-Phil - Technical Vocational Schools Association of the Philippines
'This is proof of quality at work. A quality leader from a quality institution', says Jarrah, a marketing staff from the university.
Arvie, an accounting staff said, 'I am not only proud of Dr. Karen, I am also happy that I am part of the comMunity, with her as the leader.'
Beginning 2014 until 2016, Dr. Karen will lead the member-institutions of PACU, a socially responsible organization which strengthens its members' capabilities, strives for their international recognition, and advocates relevant and effective education policies.
Dr. Karen is the second university president from Mindanao that became president of PACU following no less than Dr. Karen's father, Dr. Nestor M. Feliciano, the late president of Misamis University who became the first PACU president from Mindanao in 1998-2000.
'A strong leadership indeed hails in the comMUnity. Here is an ascendancy of commitment in service through quality education and excellence', says Dr. Mildred M. Garcia, the acting vice president for academic affairs.
This paper wouldn't be enough to write everybody's greetings and wishes to the president. One thing for sure, Dr. Karen Belina F. De Leon brings another milestone of achievement to the university which gives a good feeling to everybody in the comMUnity.

---
Top News